Analysis Of The Elder Scrolls Online: Morrowind For PC
ESO-GOLD
Date: Sep/05/17 13:55:08
Views: 1431
Guilty, after devoting the summer to relive old sensations here comes the analysis of The Elder Scrolls Online: Morrowind.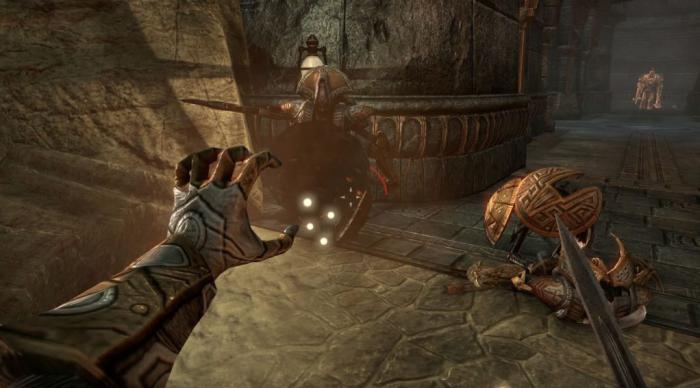 Three months ago the new expansion of the MMO of the Elder Scrolls saga came to our hands. We have gone Vvardenfell from end to end, we have tested the Warden and we have met Vivec in person. All in the company of a good Bear and adorable pets. Guilty, it's never too late to bring the analysis of The Elder Scrolls Online: Morrowind. And be prepared because it comes loaded with information.
A Totally Unexplored Area
Vvardenfell has represented a fresh blow to The Elder Scrolls Online. A totally new map full of nooks and crannies that has brought us back to Morrowind. Something that for many will be to return to the most important area of ​​the third installment of the saga offline. Something that for those unfamiliar with Morrowind will certainly be wonderful. Tread these lands, colorful, full of details of the most beautiful graphically speaking. With daily missions that give us the opportunity to obtain exclusive armor sets. Totally new and impressive dungeons inside that await gifts for those who manage to defeat the bosses.
Explore Vvardenfell on a Bear, stop fishing in any area to rest. And even get close to the Red Mountain volcano. A formidable experience without a doubt.
A New Story Line
Morrowind is not a simple expansion. We will be involved in events that will give us goosebumps. A Daedric Prince who will cause the meteorite Baar Dau to stalk Vvardenfell. Vivec, a god that must protect its citizens, wrapped in betrayals, losing power.
From the beginning of history to the end we will live with the uncertainty of not knowing what happens. Also, depending on the character we choose to take for this adventure we will find some surprises. To begin with, after saving the world, we will always be "the stranger".
The Elder Scrolls Online is set long before the beginning of the offline saga that we all know. That is why slavery still exists. If in this expansion you are accompanied by an Argonian, arm yourself with patience, because you will receive all kinds of bad comments. You may look ugly, but being realistic these details bring freshness.
Without a doubt I highly recommend doing the main mission. It puts the hairs on end, the story has merit and is interesting. Not to mention that it will help us to explore the whole area and meet the citizens.
The counterpoint is that we must defend ourselves with English. Although the companions of Cervanteso have already translated it into his mod if you are interested.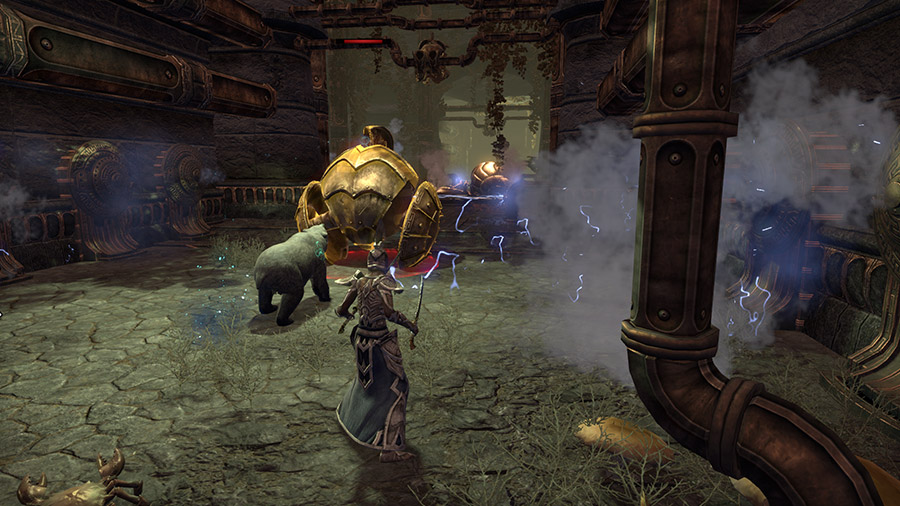 A New Class
Warden, a class that makes use of nature to carry out its purposes.
Long ago this MMO was not renewed, in any sense. However this change has brought much controversy by having to start over. After spending many hours and making a thousand changes to find comfort, I love it.
Different, new, difficult. I think it was necessary and starting with this class from scratch is imperative.
Adapting to the way you play is difficult with three totally different skill lines. It is a class that can be perfectly adapted to any type of game. For starters we can focus on both magic and stamina.
The first line will allow us to do enormous amounts of damage thanks to the support of animals. Besides having a definitive ability that will make a bear with us. And I assure you that he is the most scoundrel, so much so that sometimes he looks for a fight when we do not want to.
The second line will give us healing abilities, so we can be a good healer. Highly recommended to help defeat bosses as well as being adorable. Colorines and pretty things everywhere when throwing the skills.
The third line is still support but in this case to perform the function of a tank. Reduction of armor or magic resistance, greater damage the greater our life, etc. A good set of armor and this line of skills mixed with some attack I tell you that is canelite in branch.
Either of the three options is really advisable and comfortable to wear. And let's not talk about how pompous the skills are when we launch them.
A Class Worthy Of Expansion
As you can see it is a class that can give a lot of itself and gives us a very hybrid profile. Especially because we can mix any of the lines as we level up.
The main dish comes in PVP mode where it can really be a kind of annoying thing for the other players. There are combat skills that do a lot of damage. In addition we can use them with a very low cooling time. No wonder you are asking for a little bit of statistics. He is certainly very good at fighting battles, I assure you.
My advice is that if you choose to become a Warden, do the main missions. In a matter of a few days you will have reached champion level and you will enjoy the best experience.
The only bad point I can see is having to find a good set of armor. Personally I struggled to find a good mix until I felt myself in my sauce.
On the next page we tell you our experience with Battlegrounds, the new PVP mode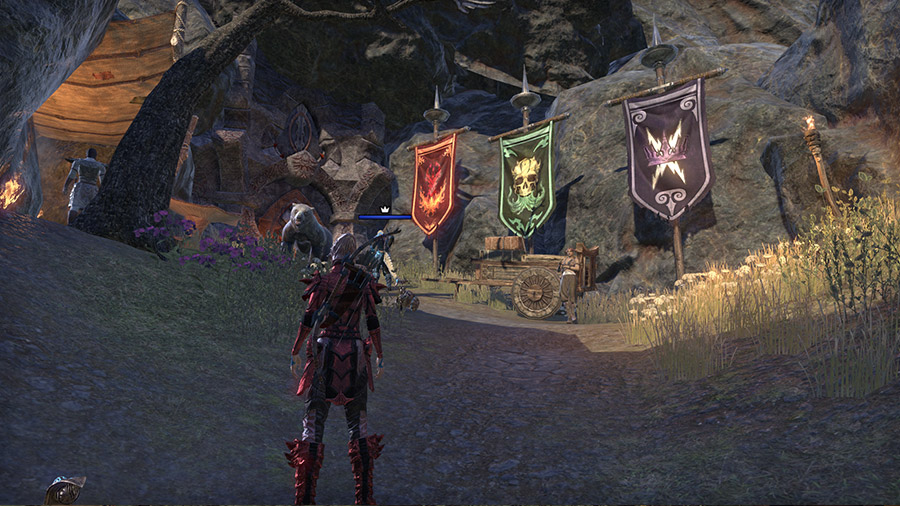 Battlegrounds, A New PVP Mode
The expansion of The Elder Scrolls Online: Morrowind has brought us more of a surprise. Until now we could only fight for the land we had chosen at the beginning of the game. Battlegrounds is a new PVP mode that allows us to play with friends regardless of the faction to which they belong. There are 3 game modes but it is not what I expected. Fresh, no doubt, but lame.
The first of all is the Domination mode. Typical game divided into 3 teams formed of four people where we must defend and take over zones. There is not much else.
The second, Team Deathmatch. Kill, kill and kill. The team that gets 500 points before wins. Or if the players are very bad, after 10 minutes the team that obtains the most points has won.
The third, Capture The Flag. Again three teams that must get points from conserving their relic and stealing the rest. Same game mode, by points and with time limit.
Not Everything Could Be Colored Roses
At first glance you will think that it is very cool, it was something that the game lacked to renew itself. Yes but no. If done, do it well. I explain:
We start with the endless queues that make you forget that you waited for your turn when it touches you.
They give us the possibility to choose between two ranges (10-49 and 10-50), however it is not so nice. The pairing system is not balanced at all. The difference from 49 to 50 is that once we reach level 50 we unlock champion points that provide better player statistics. So we have two very different stripes. One with champion points activated and another without.
This would be fable if it were not because even if we choose the easy strip we will be dealing with people of the highest level. Translation: people with powerful weapons and armor not to be able to.
In short, you need an improvement of the matching system to balance it by levels of truth. My advice is that until you have reached a decent level do not get involved. You can not enjoy these PVP modes at all without a high level and you will not do anything else to lose.
To finish - this is the least of the problems - the games are random. We will enter the queue to play and we will not be able to choose which of the 3 game types to play.
To end the analysis we talk about secondary missions and new dungeons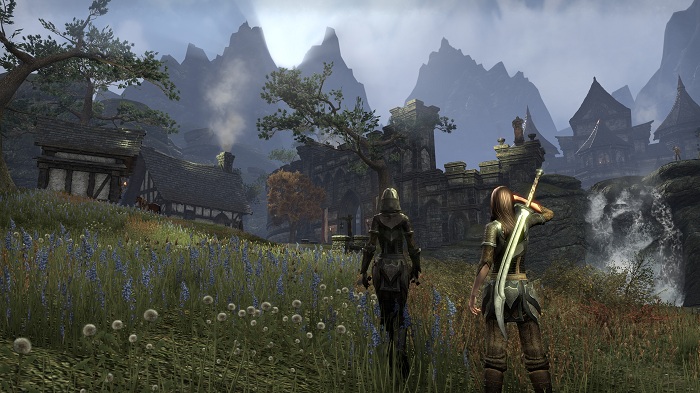 Totally New Side Quests
When we have finished helping Vivec restore Vvardenfell we can continue to help the citizens. There are missions for all tastes and will bring nuances to the main story. In addition, almost all of them open the doors to us dungeons. There is nothing that can not be explored, so if you find a door closed, look for a nearby NPC.
All of them are quite interesting, not to mention that on one occasion we will have to deal with a hallucinogenic mushroom dealer.
Public Dungeons With Lots Of Character
In Vvardenfell we will find two public dungeons. Worth visiting, no doubt. I advise you to look for a good companion to complete them because they have cloth. They are plagued with pouches and their bosses are annoying to rage but they are precious inside. Both will give us gifts, and if we insist we can get parts of a special object. I will not give you many clues, I'll just tell you that it's the most kawaii thing I've ever encountered.
Conclusions from the analysis of The Elder Scrolls Online: Morrowind
Guilty, I think Bethesda and Zenimax have done an impeccable job. Leaving aside that the new PVP can improve substantially. Overall re-living Morrowind with a totally renovated look has been a great experience. The first few days made my hair stand on end. They have managed to capture the essence of those territories so rich in details. And it has contributed, as I said a thousand times, a very fresh touch to an MMO that was launched almost 3 years ago. Although it may be cumbersome to start again with a class, I strongly recommend taking the Warden's glove. It does not disappoint at all.
The main story is short, but we have plenty of content with minor missions to entertain us for a while.
In short, more than an expansion of The Elder Scrolls Online could be said to have been almost like a new game. And I highly recommend it. If you need ESO gold or power leveling in game recently, you will want to join in our activity to get the 5% off code and buy cheapest ESO gold on ESO-GOLD.