ESO Invites Players To The New Life Festival
ESO-GOLD
Date: Dec/13/18 16:42:54
Views: 1775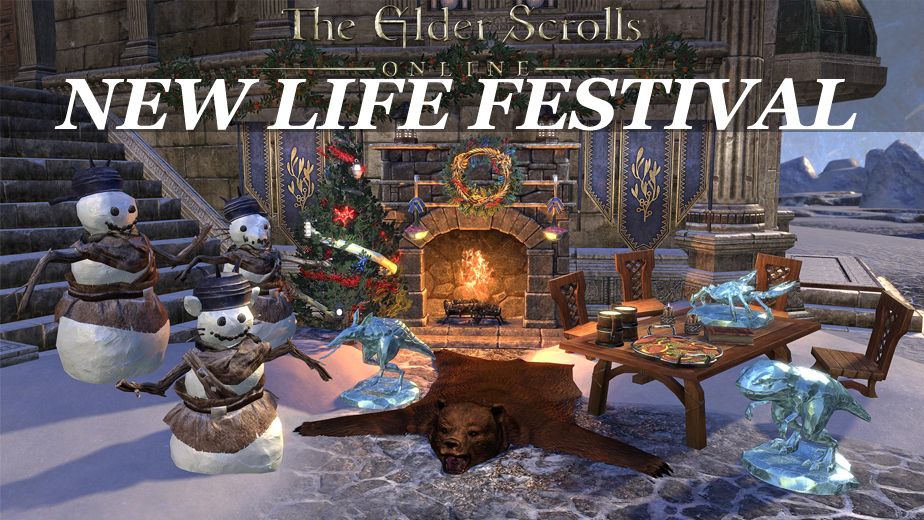 The Elder Scrolls Online invites players to the New Life Festival, which begins Thursday, December 13, at 10:00 AM EST and will run until Wednesday, January 2, at 10:00 AM EST. Altogether lasts 21 days. If you are a fan of ESO and want to join in the festivities, pick up the New Life Festival Scroll from the in-game Crown Store and then use it to find the New Life Herald, Breda, located south of Windhelm, Eastmarch.
Finish the initial task entitled "The New Life Festival" to unlock a series of New Life-Themed and festive daily quests (nine in all) that have you bring joy to every corner of Tamriel. Once you have finished your first New Life Festival quest, you'll also have unlocked the Breda's Bottomless Mead Mug collectible, which, in addition to significantly improving the entertainment of those who imbibe, provides a two-hour, one hundred percent boost to XP gains during this event period. And you should know that this welfare will stack with any other XP bonuses your character currently has, of course, including those from XP scrolls or ESO Plus membership. To be exact, that's quite an appealing event.

You'll get new Life Festival Gift Boxes by taking part in the New Life Festival and finishing the Herald's quests. These gift boxes contain random items including crafting materials, consumables, and style items. And if you're lucky enough, you probably also receive one of these much rarer rewards, too:

•Skinchanger Motif chapters

•New Life recipes

•New Life collectibles (packaged in Runeboxes and tradeable) (In alphabetical order):

。Colovian Fur Hood hat

。Colovian Filigreed Hood hat

。Fire-Breather's Torches memento

。Juggler's Knives memento

。Mud Ball Pouch memento

。Nordic Bather's Towel costume

。Sword-Swallower's Blade memento

•A selection of lights, lamps, and lanterns for your home to celebrate the Signal Fire Sprint

•Draughts of Stealth and Escape to celebrate the Trial of Five-Clawed Guile

What's more, aside from the above rewards, the New Life Festival Gift Boxes even can include New Life Charity Writs now! These new, event-exclusive writs task you with creating simple furnishing items to donate in the spirit of the season. As long as you have completed one of those new writs, you can turn it in to any return location for its item type. If you do not have the recipe required to craft the writ, Visit the relevant vendor to get it.

By the way, performing this good deed is its reward, but in addition to a philanthropic sense of satisfaction, if you finish 12 Charity Writs on one single character, you'll be able to unlock the "Newly Charitable" achievement, offering you the unbelievable Crystalfrost skin! Sounds so fantastic!

From now on, you can change your house into a festival holiday home with some unique furnishing items from Heralda Garscroft, the most influential Holiday Achievement Furnisher. You can find her in Grahtwood, Stormhaven, and Deshaan. Here are some ways to guide you on how to unlock these fabulous furnishings:

•The New Life Bonfire – Available for 10,000 gold once you complete the "Snow Bare Plunge" achievement

•The New Life Celebrant's Standard – Available for 2,500 gold once you complete the "New Life Celebrant" achievement

Though it cost plenty of eso gold, it quite worthwhile, and if you need this for more, why do not just buy some? They're always useful, aren't they?

Now, check the Achievement section of your Journal to review progress.

During this event, you can also earn Event Tickets and purchase the final Indrik Feather required to unlock the Nascent Indrik mount (along with a #OurElderScrolls Sweepstakes bonus entry). The feather in this Event is called the Opaline Indrik Feather.

In order to earn Event Tickets during this event, you need to complete one of the nine New Life Festival daily quests. Apart from the New Life Festival Gift Box, you'll also receive one Event Ticket. NOTICE: You can earn one ticket per day per account. And they'll reset at 1:00 AM EST every morning.

Once you get 10 Event Tickets, you can trade them in to the Impresario, (which is located at a special booth in Daggerfall in Glenumbra, Davon's Watch in Stonefalls, and Vulkhel Guard in Auridon.) for the Opaline Indrik Feather. You can get 20 Event Tickets during this event, and for the Impresario, it'll continue to sell all previous Feathers, which means, if you have missed some in the past, now you have a chance to catch up during the New Life Festival!

As with previous events, you can earn bonus entries into the #OurElderScrolls Sweepstakes by acquiring Indrik Feathers. To win fabulous prizes, and also get a Grand Prize trip to BE3 2019, please make sure that you have entered by filling out this form. For more information, visit the #OurElderScrolls page.

Last but not least, Besides your Event Ticket, when you first take part in the New Life Festival daily quest, you'll receive a Mysterious Reward Box. These boxes are originally part of the earlier Undaunted Celebration, in these boxes, it might include rare styles and collectibles.

You can acquire some seasonal items from the in-game Crown Store throughout the whole event period. Such as Sun's Dusk Winter Hood, Winter Scout's Pack, Garland Dapple Gray mount and the Winter Broadbrim Hat Pack. You can find these returning items on sale in the Crown Store for a limited time.

Now you can also acquire the Enchanted Snow Globe Home, too. Don't hesitate to check it out for yourself, you can find the entrance within the New Life tent.

Enjoy this fabulous event and embrace the New Year in this merry holiday.